Artistic
Collection's
Handcrafted with love and dedication,Muralpriya brings you aesthetically designed mural products which can change the look of your homes and offices. We take immense pride in saying that we are among the few who offer customisation and framing Our products range from mural paintings to artistically designed sarees,and beautifully designed kidswear and men's wear.

We also deliver across the globe.Take a sneak peek at our gallery and choose the best. Our vision is to preserve Indian Craft and artisanal skill, so that they remain an integral part of our cultural heritage. Muralpriya stands for the cause of Indian Artisans who, Inspite of their artistic brilliance are one of the poorest sections of the country. This is our social initiative.
Hand painted Outfits
Half a decade of consistent dedication and passion in what we do - reviving and age-old artform. A piece of tradition that can be passed on for generations. Relay on nothing but the passed down methods, we ensure customers are a 100 percent satisfied. This is our mission
Wall / Canvas Paintings
Since ages our temples have been showcasing the real heritage through artistically handcrafted mural paintings on their walls.It has been a humble effort by Muralpriya to preserve it and give it a new life by promoting them to the walls of our homes.
Home Decor
Give a classic touch to your homes with Muralpriya 's customised ethnic home decor collections.A beautifully crafted Madhubani art or a Kerala mural Nettipattam can give your homes a luxurious look
Gift Items
Moments become memorable while recieving personalised gifts especially those gifts of your choice . Our work itself is our testimonial .Customers from across the globe have been satisfied with our products
Jewellery
Going for a party or searching for a gift for someone you love ? Muralpriya brings you a wide range of beautifully designed jewelry and accessories that can make heads turn.
Miscellaneous
Bored of normal gifts? Welcome to our special section of handmade products which are unique in their style and class.Muralpriya is unique in creating masterpieces that are tailormade for your choices
1000+
Customers
Just 4+ years of experience in the artisan sector and we are proud to share with you that we have 1000 plus customers from around the globe.
15+
Countries
Our customers span across continents and so far we have been able to cover 15 plus countries.Right from America to Uk,and from Brazil to Australia, our products have received a global outreach.
15+
Traditional Indian paintings
Muralpriya provides a vast array of Traditional Indian paintings .Immerse yourself in the vibrant hues and colors of Muralpriya and get inspired
Poornima Easwer,

Trivandrum
Thankyou so much @muralpriya for this wonderful piece of mere awesomeness and professionality .All those intricate works the cloth material everything was beyond awesome and was really worthy of the amount paid.Yes it really was like the icing on the cake
Malini

Australia
I was waiting for the right opportunity to, connect to her, for a special occasion. A part of Kerala heritage with us through Mural Priya, and its an investment, I wont regret. Thank you ever so much for being kind and answering all my queries and sending it to me, at such a short notice.
Anjali Anish

Calicut
Theyyam as an art form and as painting always attracted me, owning a painting was my dream, then I saw Muralpriya is having it in her FB page, I was looking for this, I really liked the work and the intricacies they have gone to, this is my perfect choice.
Our Products
Our products range from mural paintings to artistically designed sarees,and beautifully designed kidswear and men's wear.
Keli collection kathakali saree
Painted Male and female half face kathakali on pallu with colorful assorted boxes on pallu and full border of kerala saree
Hand painted Radha krishna saree with a peeli on pallu of kerala tissue silk sarees


Muralpriya hand painted mural lady theme design on kerala tissue silk saree.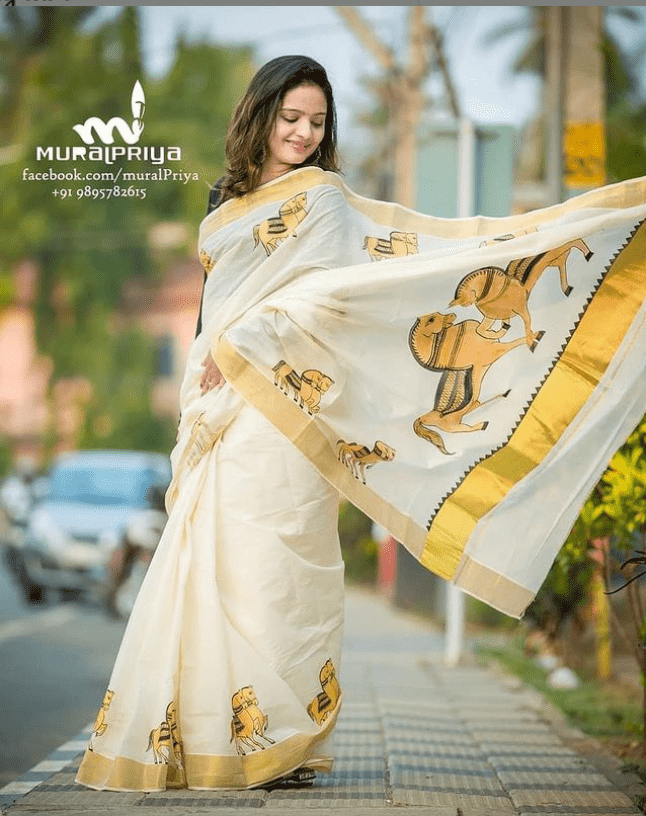 Get In Touch With Us
Muralpriya is a one stop destination for all your artistic needs. Be it a theme wedding shopping for Bridal wear or a casual kid's wear we can provide you outfits that befits your tastes .

Our customised Bride & Groom outfits,Wedding theme for family can change the way your weddings are.Our customised gifts are ideal for all occasions. Muralpriya online academy offers online workshops for all age groups.So feel free to get in touch with us .
Our Brochure →

Contact Us info.muralpriya@gmail.com